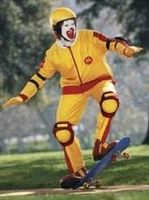 This is unbelievable to me
. McDonald's has announced a
licensing and media venture
for branded products like bikes and skateboards, reportedly to improve its image as promoting a healthy lifestyle for kids.
In similar news, Beachbody has announced that it will be licensing its logo to a new line of comfortably padded office cubicles, to improve the image of its customer service department.
Here's my point; If a business has an image issue, it is likely created by a product or service problem. Don't fix the image - fix the problem. Morgan Spurlock's brilliant film
Supersize Me
, showed how McDonald's may be guilty of promoting a menu that is not all that healthy for you if it is the majority of your diet. And while the demonstration in that film is extreme, it shows how society's expectation of a company changes as it goes from being an interesting success story to a behemoth with massive distribution. It is so massive now, that McDonald's has inherited an additional social responsibility. And that's the way it goes. So be socially responsible! Point the business, and the society you serve, in a positive direction!
The opportunity to contribute to the world and make a profit with that fantastic McDonald's distribution system is amazing. Now is not the time to make a simple symbolic gesture about living a healthy lifestyle. Making us dig into the McDonald's website for
nutrition information
is not a solution, and hiring an author to help
educate people about nutrition
is not dealing with the issue head-on. McDonald's needs to apply courageous, visible creativity to the store and menu option, or in other words -- actually show that McDonald's cares about the health of its customers by inverting the menu, and making it easier to find health than it is to find trans fat.
That's how you get back to being a welcome neighbor on so many thousands of street corners across the world.
Actively help the customer know which foods are healthiest. Train your staff (which will help them live a healthier lifestyle as well) and present those healthy options as colorfully and prominently as the fried stuff and burgers. Help us shift from thinking of McDonald's as the evil food empire to a valued food supplier that cares about us. If McDonald's would help me sell my daughter on ordering something called a "Kids Mighty Meal" filled with "Orange Princess" mini-carrots, "Cherry Bomb" tomatoes, and a soy-veggie patty called a "Beach Burger" packaged in colorful game-themed wrapping with contests, quizzes, and jokes that would be as fun as the junk, I would pull through as often as she wanted. Instead when I am driving near a McDonald's at lunch time I am hoping she'll look the other way. Why is that not obvious to this company and its franchisees?
How about an actual weight loss plan, available at McDonald's, where they support their community in banding together to lose weight and eat more healthy? Instead of making people figure out how to construct a 400 calorie meal from their menu, McDonald's could do it for you, right there, with healthy food options. Lay it out for us! Help your community solve the obesity problem.
I can't even imagine the power that brand would wield if they played for the long term benefit of its customers - and ultimately EVERYONE would win. And the other fast food companies would have to follow.
I am not saying take everything else off the menu - just advocate the healthy options as creatively as you push the other stuff. Frankly, Beachbody would find a way to help promote such a move by McDonald's in our weight loss product information and maybe even our $50 million a year in TV advertising. It would help everyone because it would be so convenient when it comes to healthy food planning that the results from our fitness programs would be that much more achievable. Instead, Beachbody has to give advice to its customers as to why people should avoid McDonald's. Too bad. No company's perfect, but the potential is so clear.
As for the business of Beachbody, we've got our own "image issues" too, and we try to address them directly. Logistics and customer service all need constant refinement and improvement to keep up with our fast growth. We don't fade from the hard work and look at a distant way to "appear like we care". We genuinely care. We accept the responsibility. And in order to find the long term solution, we are constantly testing and investing in solutions.
Maybe McDonald's management will approach their menu that way some day by dealing directly with the problem, not just the image. As a consumer, parent, and human being, I hope so.